CINÉMA CHRONIQUE - CRITIQUE
Walkmovie.info vous dévoile la chronique du film : Mon Crime - Chronicle of the movie « Mon Crime » in English
En poursuivant votre navigation sur ce site, vous acceptez que des cookies soient utilisés afin d'améliorer votre expérience utilisateur et de vous offrir des contenus personnalisés : OK - Info Cookies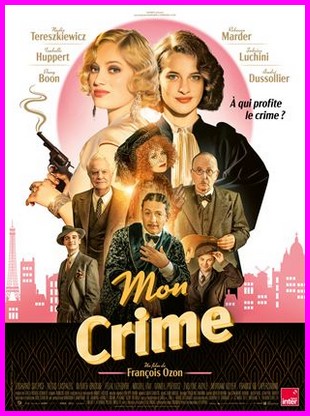 Sortie 8 mars 2023
Comédie de François Ozon. Avec Nadia Tereszkiewicz, Rebecca Mader, Isabelle Hupert, Fabrice Luchini, Dany Boon, Édouard Sulpice, Félix Lefebvre, André Dussollier, Régis Laspalès, André Fau, Myriam Boyer, Franck de la Personne, Daniel Prévost. 1h42 – Sortie le 8 mars 2023
L'affaire Violette Nozière surnommée l'empoisonneuse, à peine terminé faisant les gros titres en 1933-1934 qu'une autre affaire éclate. Madeleine Verdien jeune actrice de théâtre sans talent est soupçonnée d'avoir tué un célèbre producteur. Les éléments lui sont très défavorables : La veille, elle risquait d'être expulsée avec son amie Pauline Mauléon, jeune avocate en devenir. 300 000 francs, appartenant à la victime, ont disparu. L'inspecteur Lebrun retrouve même l'arme du crime au domicile de Madeleine. Autant vous dire, que l'énigme va être vite réglée. Le juge Gustave Rabusset s'en frotte déjà les mains, à l'approche de la retraite. La cerise sur le gâteau sur le conseille de son avocate Pauline, son amie actrice avoue tout en bloc. Le mobile serait la légitime défense. Est-ce que tout le monde va se satisfaire du dénouement au procès ?
« Mon Crime » tiré d'une pièce de théâtre des années 30', adaptée au cinéma. Les décors, les dialogues et le jeu des acteurs, actrices sont rondement mené comme un vaudeville. Nadia Tereszkiewicz, Rebecca Mader en duo espiègle pour mettre en avant le féminisme vaut le détour. Danny Boon prenant l'accent marseillais n'est pas dénué de tout intérêt pour donner corps à cette intrigue. Néanmoins, il manque le coup de théâtre, l'étincelle, malgré une Isabelle Huppert déchaînée. « Mon Crime » est trop théâtral à mon goût.
Phil Marso – 14 mars 2023 - www.walkmovie.info

Released March 8, 2023
Comedy by François Ozon. With Nadia Tereszkiewicz, Rebecca Mader, Isabelle Hupert, Fabrice Luchini, Dany Boon, Édouard Sulpice, Félix Lefebvre, André Dussollier, Régis Laspalès, André Fau, Myriam Boyer, Franck de la personne, Daniel Prévost. 1h42 – Released March 8, 2023
The Violette Nozière affair nicknamed the poisoner, barely finished making the headlines in 1933-1934 when another affair broke out. Madeleine Verdien, a young talentless theater actress, is suspected of having killed a famous producer. The elements are very unfavorable to her: The day before, she risked being expelled with her friend Pauline Mauléon, a young lawyer in the making. 300,000 francs, belonging to the victim, have disappeared. Inspector Lebrun even finds the murder weapon at Madeleine's home. As much to tell you, that the enigma will be quickly solved. Judge Gustave Rabusset is already rubbing his hands about it, as he nears retirement. The icing on the cake on the advice of her lawyer Pauline, her actress friend confesses everything. The motive would be self-defense. Will everyone be satisfied with the outcome at trial?
"Mon Crime" taken from a play from the 1930s, adapted for the cinema. The sets, the dialogues and the acting of the actors, actresses are smoothly conducted like a vaudeville. Nadia Tereszkiewicz, Rebecca Mader in a mischievous duet to highlight feminism is worth the detour. Danny Boon taking the Marseille accent is not devoid of any interest in giving substance to this intrigue. Nevertheless, it lacks the twist, the spark, despite an unleashed Isabelle Huppert. "My Crime" is too theatrical for my taste.

Phil Marso – March 14, 2023 - www.walkmovie.info