CINÉMA CHRONIQUE - CRITIQUE
Walkmovie.info vous dévoile la chronique du film : En plein feu. Chronicle of the movie « En plein feu » in English
En poursuivant votre navigation sur ce site, vous acceptez que des cookies soient utilisés afin d'améliorer votre expérience utilisateur et de vous offrir des contenus personnalisés : OK - Info Cookies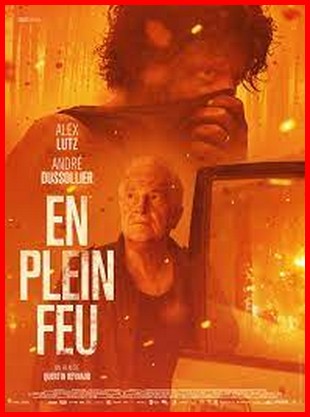 Sortie 4 janvier 2023
Drame de Quentin Reynaud. Avec André Dussollier, Alex Lutz, Sophie Paret, Laura Sepul, Vallier Vaudin 1h25 – Sortie le 8 mars 2023
Dans un lotissement dans les Landes, les habitants sont habitués à une simulation d'évacuation en cas de feu de forêt. Cette fois-ci, c'est du sérieux. La sirène a retenti à trois reprises. Simon divorcé, est hébergé chez son père Joseph. Ils sont les derniers à partir. Après 20 minutes de route, ils se retrouvent totalement coincé dans un embouteillage d'une départementale au cœur de la forêt. A l'horizon, le feu progresse. Impossible de rebrousser chemin, la température monte, les animaux s'enfuient. Une question s'impose : rester dans sa voiture et se calfeutrer ou partir ?
« En Plein Feu » nous emmène au cœur des incendies des Landes qui a fait l'actualité cet été. Film prémonitoire, puisque le tournage c'est réalisé l'année d'avant. On reste en haleine tout le long, même si la dernière partie aurait mérité plus temps pour développer l'après-incendie. Le duo André Dussollier et Alex Lutz fonctionne à merveille pour ce drame.
Phil Marso – 13 mars 2023 - www.walkmovie.info
Release of the film on March 8, 2023
Drama by Quentin Reynaud. With André Dussollier, Alex Lutz, Sophie Paret, Laura Sepul, Vallier Vaudin 1h25 – Released March 8, 2023

In a housing estate in the Landes, the inhabitants are used to a simulation of evacuation in the event of a forest fire. This time it's serious. The siren sounded three times. Divorced Simon, lives with his father Joseph. They are the last to leave. After 20 minutes on the road, they find themselves totally stuck in a traffic jam on a departmental road in the heart of the forest. On the horizon, the fire progresses. Impossible to turn back, the temperature rises, the animals flee. A question arises: stay in your car and caulk or leave?

"En Plein Feu" takes us to the heart of the Landes fires that made the news this summer. Premonitory film, since the shooting was done the year before. We stay in suspense all along, even if the last part would have deserved more time to develop the post-fire. The duo André Dussollier and Alex Lutz works wonderfully for this drama.

Phil Marso – March 13, 2023 - www.walkmovie.info