CINÉMA CHRONIQUE - CRITIQUE
Walkmovie.info vous dévoile la chronique du film : Les Choses simples - Chronicle of the movie « Les Choses simples » in English
En poursuivant votre navigation sur ce site, vous acceptez que des cookies soient utilisés afin d'améliorer votre expérience utilisateur et de vous offrir des contenus personnalisés : OK - Info Cookies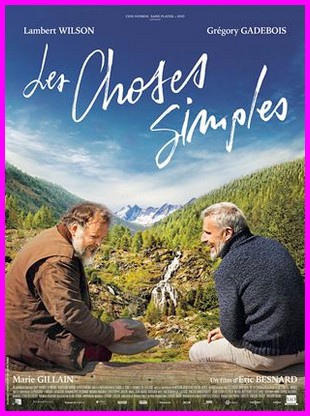 Sortie 22 février 2023
Comédie de Éric Besnard. Avec Lambert Wilson, Grégory Gardebois, Marie Gillian, Betty Puerucci Berthoud, Magali Bonat, Antoine Gouy. 1h35 – Sortie le 22 février 2023
Vincent, la quarantaine est l'entrepreneur européen le plus sexy. Il n'arrête pas de courir, dors très peu la nuit et ne cesse de s'entourer de gens compétant pour tenir ses projets de pointes qui seront décisifs pour les années à venir. Le plus drôme c'est qu'il a fait fortune dans un site de rencontres. Pourtant, malgré cette boulimie de travail, il se sent seul, malgré le confort. Il est à la limite de la rupture. C'est en tombant en panne avec sa voiture de sport, chic, qu'il va faire la connaissance de Pierre. Lui, c'est tout le contraire, il s'est retiré du monde moderne, en vivant dans un chalet qui semble rudimentaire. Pourtant, avec des choses simples, il semble être heureux. L'intrusion de Vincent va-t-il remettre en question sa vie, d'homme libre ?
« Les choses simples » est une comédie légère qui nous pousse à la déconnexion complète avec nos vies effrénées. Ceci est le départ du film, mais le scénario est plus astucieux qu'il n'y paraît. Lambert Wilson en self-man avec une repartie aussi rapide qu'un clic est assez savoureux, face à Grégory Gardebois silencieux en mode « ours » fait un parfait duo pour nous tenir en haleine jusqu'au bout. Marie Gillian trop discrète au cinéma apporte une bouffée d'air à ce récit. En sortant, on aurait presque envie de quitter nos vies urbaines pour être au contact de la nature, l'été. L'hiver, ça reste à voir.
Phil Marso – 28 Février 2023 - www.walkmovie.info
Released February 22, 2023
Comedy by Eric Besnard. With Lambert Wilson, Grégory Gardebois, Marie Gillian, Betty Puerucci Berthoud, Magali Bonat, Antoine Gouy. 1h35 – Release on February 22, 2023

Vincent, in his forties, is the sexiest European entrepreneur. He never stopped running, slept very little at night and never stopped surrounding himself with competent people to carry out his cutting-edge projects which would be decisive for the years to come. The funny thing is that he made his fortune on a dating site. However, despite this bulimia for work, he feels alone, despite the comfort. He's on the verge of breaking. It is by breaking down with his chic sports car that he will meet Pierre. He is quite the opposite, he has withdrawn from the modern world, living in a chalet that seems rudimentary. Yet, with simple things, he seems to be happy. Will Vincent's intrusion call into question his life as a free man?

"The Simple Things" is a light comedy that pushes us to completely disconnect from our hectic lives. This is the start of the movie, but the storyline is trickier than it looks. Lambert Wilson in self-man with a repartee as fast as a click is quite tasty, facing Grégory Gardebois silent in "bear" mode makes a perfect duo to keep us in suspense until the end. Marie Gillian, too discreet in the cinema, brings a breath of fresh air to this story. Going out, we would almost want to leave our urban lives to be in contact with nature, in summer. Winter remains to be seen.
Phil Marso – February 28, 2023 - www.walkmovie.info