CINÉMA CHRONIQUE - CRITIQUE
Walkmovie.info vous dévoile la chronique du film : Les Cyclades - Chronicle of the movie « Les Cyclades » in English
En poursuivant votre navigation sur ce site, vous acceptez que des cookies soient utilisés afin d'améliorer votre expérience utilisateur et de vous offrir des contenus personnalisés : OK - Info Cookies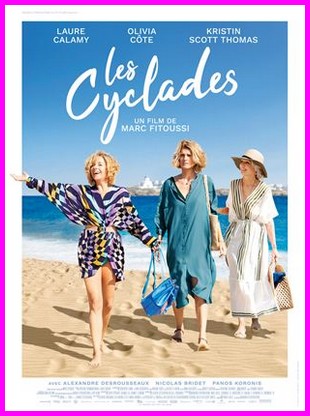 Sortie 11 janvier 2023
Comédie de Marc Fitoussi. Avec Laure Calamy, Olivia Côte, Kristin Scott Thomas, Alexandre Desrousseaux, Nicolas Bridet, Panos Koronis, Marie Mallia, Leelou Laridan, Mathias Mine, Léontine d4oncieu. 1h50 – Sortie le 11 janvier 2023
1989, Blandine et Magalie ont un point commun, elles adorent le film « Le Grand bleu » et sa fameuse B.O. Reste à savoir si cette amitié va durer pour la vie. Chacune d'entre-elles vont suivre leur route sans se croiser pendant des années. Benjamin, le fils de Blandine s'arrange pour retrouver Magalie. Sa mère est en dépression depuis la séparation de son conjoint. Benjamin pense que ses retrouvailles à l'occasion d'un voyage en Grèce vont débloquer la situation. Sauf que le tempérament des deux femmes est à l'opposé. Blandine est exubérante, une joie de vivre à en faire trop. Blandine est plus renfermée sur elle-même, sérieuse, terre à terre. Est-ce une bonne idée de partager des vacances ? Sachant, qu'il doit avoir des fâcheries qui risquent de remonter à la surface.
« Les Cyclades » répondent à des critères cinématographiques pour passer un bon moment. Certes, ce n'est pas un cinq étoiles qui va vous marquer à jamais. Néanmoins Laure Calamy crève l'écran par sa bonne humeur, son extravagance. Olivia Côte est peut-être moins empreint dans son rôle. La présence de Kristin Scott Thomas galvanise ce voyage car le binôme pouvait s'épuiser au bout d'une heure. Une Grèce Idyllique prolongera vos rêves de vacances.
Phil Marso – 16 janvier 2023 - www.walkmovie.info

Released January 11, 2023
Comedy by Marc Fitoussi. With Laure Calamy, Olivia Côte, Kristin Scott Thomas, Alexandre Desrousseaux, Nicolas Bridet, Panos Koronis, Marie Mallia, Leelou Laridan, Mathias Mine, Léontine d4oncieu. 1h50 – Release on January 11, 2023
1989, Blandine and Magalie have one thing in common, they love the film "Le Grand bleu" and its famous soundtrack. It remains to be seen whether this friendship will last for life. Each of them will follow their path without crossing paths for years. Benjamin, Blandine's son manages to find Magalie. His mother has been in depression since the separation from her husband. Benjamin thinks that his reunion on the occasion of a trip to Greece will unblock the situation. Except that the temperament of the two women are opposite. Blandine is exuberant, a joie de vivre in doing too much. Blandine is more withdrawn, serious, down to earth. Is it a good idea to share a vacation? Knowing that he must have anger that may come to the surface.

"The Cyclades" meet cinematographic criteria to have a good time. Certainly, it is not a five star that will mark you forever. Nevertheless Laure Calamy bursts the screen by her good humor, her extravagance. Olivia Côte is perhaps less impressed in her role. The presence of Kristin Scott Thomas galvanizes this trip because the pair could run out after an hour. An Idyllic Greece will prolong your holiday dreams.
Phil Marso – January 16, 2023 - www.walkmovie.info