CINÉMA CHRONIQUE - CRITIQUE
Walkmovie.info vous dévoile la chronique du film : L'Immensita - Chronicle of the movie « L'Immensita » in English
En poursuivant votre navigation sur ce site, vous acceptez que des cookies soient utilisés afin d'améliorer votre expérience utilisateur et de vous offrir des contenus personnalisés : OK - Info Cookies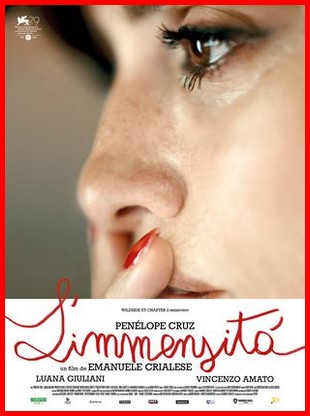 Sortie 11 janvier 2023
Film dramatique de Emanuele Crialese. Avec Pénelope Cruz, Vincenzo, Luana Giuliani, Patrizio Francioni, Maria Chiara Goretti, Alvia Reale, Penelope Nieto Conti, India Santella. 1h37 – Sortie le 11 janvier 2023.
Rome dans les années 70' où les chamboulements familiaux frappent à la porte, sans forcément vouloir l'ouvrir, voir la claquer. Clara n'est plus amoureuse de son mari Felice Borghetti qui lui assure une existence confortable. La mère va se réfugier auprès de ses trois enfants : Diana (7 ans), Gino (9 ans) et Adriana (12 ans). Cette dernière espère un signe venu du ciel pour que son corps de fille se transforme au masculin. Pourtant, son allure de garçon manqué est troublante. Elle a beau se réfugier de temps en temps sur un terrain de baraque d'ouvriers modestes pour changer d'identité auprès de sa nouvelle camarade Sara. Une situation qui risque de créer un désordre au sein de la famille.
« L'Immensita » donne un rôle très attachant à Pénelope Cruz qui rayonne tout le long du film, notamment avec la vivacité des trois enfants. Ici, il n'est pas question d'aborder frontalement le côté transgenre, puisque dans les années 70' la mode au « genre » chez les ados n'avait pas le droit à l'article. Le film est plaisant mais pas assez abouti à mon sens, puisque le rôle du mari passe en arrière plan. Ainsi que l'entourage féminin des adultes. Le trio des enfants donne de la candeur au récit.
Phil Marso – 12 janvier 2023 - www.walkmovie.info

Release of the film on January 11, 2023
Drama film by Emanuele Crialese. With Penelope Cruz, Vincenzo, Luana Giuliani, Patrizio Francioni, Maria Chiara Goretti, Alvia Reale, Penelope Nieto Conti, India Santella. 1h37 – Released on January 11, 2023.
Rome in the 1970s when family upheaval knocked on the door, without necessarily wanting to open it, or even slam it. Clara is no longer in love with her husband Felice Borghetti who ensures her a comfortable existence. The mother will take refuge with her three children: Diana (7 years old), Gino (9 years old) and Adriana (12 years old). The latter hopes for a sign from heaven for her girl's body to transform into a masculine one. Yet his tomboyish allure is disturbing. She can take refuge from time to time on a plot of barracks for modest workers to change her identity with her new friend Sara. A situation that risks creating disorder within the family.

"L'Immensita" gives a very endearing role to Penelope Cruz who shines throughout the film, especially with the vivacity of the three children. Here, there is no question of tackling the transgender side head-on, since in the 1970s the fashion for "gender" among teenagers was not allowed to feature in the article. The film is pleasant but not accomplished enough in my opinion, since the role of the husband passes into the background. As well as the female entourage of adults. The trio of children lends candor to the story.

Phil Marso – January 12, 2023 - www.walkmovie.info