CINÉMA CHRONIQUE - CRITIQUE
Walkmovie.info vous dévoile la chronique du film : L'Affaire Collini (2022) - Chronicle of the movie « L'Affaire Collini » in English
En poursuivant votre navigation sur ce site, vous acceptez que des cookies soient utilisés afin d'améliorer votre expérience utilisateur et de vous offrir des contenus personnalisés : OK - Info Cookies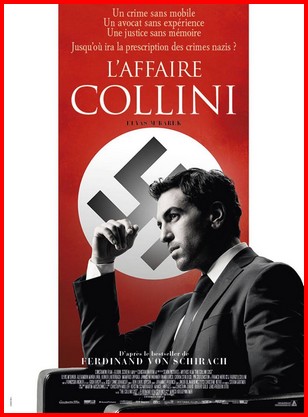 Sortie 27 avril 2022
Drame historique de Marco Kreuzpaintner. Avec Elyas M'Barek, Alexandra Maria Lara, Heiner Lauterbach, Franco Nero. 2h03 – Sortie le 27 avril 2022
L'industriel Hans Meyer est abattu froidement dans son bureau. L'auteur du crime Fabrizio Collini, un homme âgé, ne cherche même pas à s'enfuir. Caspar Leinen, un jeune avocat qui exerce depuis trois mois, est convoqué par la justice allemande. Il est chargé de défendre le meurtrier. C'est ça première affaire, en cours d'assise criminelle. Il s'en félicite, jusqu'au moment qu'il découvre l'identité de la victime. Par le passé, Caspar avait été le copain de jeu de son fils et forcément une amitié c'était noué avec Hans Meyer, considéré à ses yeux comme un second père. Un élément inattendu qui complique l'affaire. De son côté, Fabrizio Collini, reste muet sur son acte odieux. La prison à perpétuité est-elle inévitable ?
« L'affaire Collini » par sa sobriété amène petit à petit à entrevoir une vérité historique que l'on ne souhaite pas déterrer puisque ça ne fera pas revenir les morts. Elyas M'Barek, campé en avocat novice va se révéler, intransigeant face aux différentes pressions qui s'exercent insidieusement. Un film captivant où la justice des hommes s'accommode de petits arrangement pour la paix des diables.
Phil Marso – 3 mai 2022 - www.walkmovie.info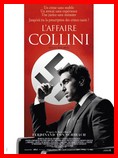 Release of the film on April 27, 2022
Historical drama by Marco Kreuzpaintner. With Elyas M'Barek, Alexandra Maria Lara, Heiner Lauterbach, Franco Nero. 2h03 – Released April 27, 2022

The industrialist Hans Meyer is coldly shot in his office. The author of the crime Fabrizio Collini, an elderly man, does not even try to escape. Caspar Leinen, a young lawyer who has been practicing for three months, is summoned by the German courts. He is responsible for defending the murderer. This is the first case, in the course of a criminal assize. He welcomes it, until he discovers the identity of the victim. In the past, Caspar had been his son's playmate and inevitably a friendship was established with Hans Meyer, considered in his eyes as a second father. An unexpected element that complicates the case. For his part, Fabrizio Collini, remains silent on his heinous act. Is life imprisonment inevitable?

"The Collini affair" by its sobriety gradually brings to glimpse a historical truth that we do not wish to unearth since it will not bring back the dead. Elyas M'Barek, camped out as a novice lawyer will reveal himself, intransigent in the face of the various pressures which are exerted insidiously. A captivating film where the justice of men adapts to small arrangements for the peace of the devils.
Phil Marso – May 3, 2022 - www.walkmovie.info