CINÉMA CHRONIQUE - CRITIQUE
Walkmovie.info vous dévoile la chronique du film : Les Témoins de Lendsdorf (2019) - Chronicle of the movie « Les Témoins de Lendsdorf » in English
En poursuivant votre navigation sur ce site, vous acceptez que des cookies soient utilisés afin d'améliorer votre expérience utilisateur et de vous offrir des contenus personnalisés : OK - Info Cookies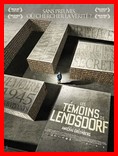 Sortie 13 mars 2019
Drame de Amichar Greenberg avec Ori Pfeffer, Riva Gur, Hagit Dasberg-Shamul, Ori Yaniv, Michael Fuith, Irène Flury, Michaela Rosen, Helmut Häusler. 1h34 – Sortie le 13 mars 2019
Yoel juif orthodoxe pratiquant et chercheur pour la mémoire de la shoah dans la ville de Lendsdorf en Autriche souhaite résoudre une énigme. Deux cent juifs auraient été abattus par les nazis en 1945, juste avant leur départ, en prévision de la débâcle du régime hitlérien. On n'a toujours pas localisé l'endroit de la fosse commune. On a des soupçons sur un champ de plusieurs hectares, mais sans vraiment avoir de preuve. Il y a urgence ! Un projet immobilier de grande envergure doit être lancé pour le bénéfice économique de la ville. Yoel a encore quelques jours pour trouver la trace des témoins ayant eu écho de ce drame historique avant qu'une commission donne le feu vert pour le chantier de construction. L'obstination de Yoel, va-t-elle révéler certaines vérités inavouables ?
Ce film est traité comme une enquête policière, mais dans les coulisses feutrées du secret. « Les Témoins de Lendsdorf » se révèlent captivants. La vérité est ailleurs, au point de déstabiliser toute une vie pour les vivants.
Phil Marso – 17 mars 2019 - www.walkmovie.info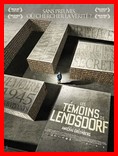 Sortie 13 mars 2019
Chronicle of the movie « Les Témoins de Lensdorf » in English
Dr Amichar Greenberg with Ori Pfeffer, Riva Gur, Hagit Dasberg-Shamul, Ori Yaniv, Michael Fuith, Irene Flury, Michaela Rosen, Helmut Häusler. 1:34 - Released March 13, 2019

Yoel Orthodox Jew practicing and researcher for the memory of the Holocaust in the city of Lendsdorf in Austria wishes to solve an enigma. Two hundred Jews were shot dead by the Nazis in 1945, just before their departure, in anticipation of the collapse of the Hitler regime. We still have not located the place of the mass grave. We have suspicions on a field of several hectares, but without really having any proof. It's urgent ! A large-scale real estate project must be launched for the economic benefit of the city. Yoel still has a few days to find traces of the witnesses who echoed this historic drama before a commission gives the go-ahead for the construction site. Yoel's obstinacy, will she reveal some shameful truths?

This film is treated like a police investigation, but behind the scenes of the secret. "The Lendsdorf Witnesses" turn out to be taking where the truth is elsewhere to the point of destabilizing a lifetime for the living.