CINÉMA CHRONIQUE - CRITIQUE
Walkmovie.info vous dévoile la chronique du film : Stan & Ollie (2019) - Chronicle of the movie « Stan & Ollie » in English
En poursuivant votre navigation sur ce site, vous acceptez que des cookies soient utilisés afin d'améliorer votre expérience utilisateur et de vous offrir des contenus personnalisés : OK - Info Cookies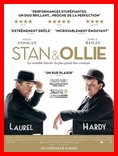 Sortie 6 mars 2019
Drame Biopic de John S.Baird avec Steve Coogan, John C.Reilly, Shirley Henderson, David Huston, Nina Arianda, Rufus Jones, Susy Kane. 1h37 – Sortie le 6 mars 2019
Laurel & Hardy duo comique mondialement connu au cinéma tente de faire un come-back au music-hall. Le producteur Bernard Delfont leur propose une tournée en Angleterre. Stan & Ollie s'aperçoivent rapidement qu'ils atterrissent dans des hôtels miteux et des salles à moitié pleine. Ils savent que leur humour est passé de mode, mais ils espèrent néanmoins regagner leur public et qui sait les nouvelles générations. Ils ont même le projet de faire un nouveau film en parodiant le célèbre Robin des Bois. Les voilà donc à nouveau sur les routes, mais certains malentendus resurgissent entre les deux comédiens. Laurel c'est la grande gueule pour remettre en cause le contrat qui les lie aux rapaces d'Hollywood. C'est lui aussi qui écrit tous les sketches et imaginent les sketches. Hardy lui se contente de jouer le comédien, il excelle en la matière. Par contre sa passion des courses dilapide son argent. Hardy se plein d'avoir mal à un genou. Va-t-il aller jusqu'au bout de la tournée ?
Le duo comique de situation Laurel & Hardy avait démarré une carrière individuelle à l'époque du cinéma muet. C'est en 1927, un an après l'arrivée du cinéma parlant que cela devient une évidence de réunir ces deux comédiens qui avaient déjà une notoriété. Ils connurent un succès immédiat et tourna plus de 100 films ensemble. La prouesse de ce duo est d'avoir survécu à la transition du cinéma muet au parlant.
« Stan & Ollie » peut décevoir les nostalgiques de ce duo hilare qui a occupé nombreux enfants, les samedis après-midi devant la TV dans les années 60/70. Ici, on ne découvre pas l'ascension de ce duo en pleine gloire. Le réalisateur a préféré raconter la fin de carrière et la déchéance artistique inéluctable. Sous l'angle du drame, ce film reste néanmoins touchant même si certaine scène manque de rythme.
Phil Marso – 11 mars 2019 - www.walkmovie.info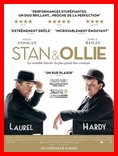 Chronicle of the movie « Stan & Ollie » in English
John S.Baird's Biopic Drama with Steve Coogan, John C. Reilly, Shirley Henderson, David Huston, Nina Arianda, Rufus Jones, Susy Kane. 1:37 - Released March 6, 2019

Laurel & Hardy comic duo world famous in the cinema tries to make a comeback to the music hall. Producer Bernard Delfont offers them a tour in England. Stan & Ollie soon realize that they are landing in shabby hotels and half-full halls. They know that their humor is out of fashion, but they still hope to regain their audience and who knows the new generations. They even plan to make a new movie by parodying the famous Robin Hood. So here they are again on the roads, but some misunderstandings arise between the two comedians. Laurel is the big mouth to question the contract that binds them to Hollywood raptors. He also writes all the sketches and imagines the skits. Hardy is content to play the comedian, he excels in the field. On the other hand, his racing passion squanders his money. Hardy is full of knee pain. Will he go to the end of the tour?

The comedy duo Laurel & Hardy had started an individual career in the silent film era. It was in 1927, a year after the arrival of the talking cinema that it became obvious to bring together these two actors who already had a reputation. They enjoyed immediate success and shot more than 100 films together. The prowess of this duo is to have survived the transition from silent to spoken film.

"Stan & Ollie" can disappoint the nostalgic of this hilarious duet that has occupied many children, Saturday afternoons in front of the TV in the 60s / 70s. Here, we do not discover the rise of this duo in full glory. The director preferred to tell the end of career and the inevitable artistic decay. From the angle of the drama, this film remains touching even if some scene lacks rhythm.