CINÉMA CHRONIQUE - CRITIQUE
Walkmovie.info vous dévoile la chronique du film : Green Book : sur les route du Sud (2019) - Chronicle of the movie « Green Book : sur les routes du Sud » in English
En poursuivant votre navigation sur ce site, vous acceptez que des cookies soient utilisés afin d'améliorer votre expérience utilisateur et de vous offrir des contenus personnalisés : OK - Info Cookies
Green Book : sur les route du Sud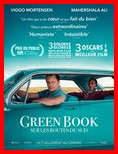 Sortie 23 janvier 2019
Drame biopic de Peter Farelly avec Viggo Mortensen, Mahershala Ali, Linda Cardellini, Sébastien Maniscalco, Dimiter D.Marinov, P.J Byrne, Don Stark, David An. 2h10 – Sortie le 23 janvier 2019.
Tony Lip, un videur italo-américain du Bronx sait gérer les situations difficiles. C'est un fin psychologue, même si à l'arrivée, il utilise les poings. Il a une charmante épouse Dolores et deux gamins. Il vient de perdre son emploi pour avoir fait un peu trop de zèle face à un petit caïd. Il va devoir trouver un nouveau job pour nourrir sa petite famille. Tony a tout de même deux défauts majeurs : il aime la malbouffe des hamburgers et ne supporte pas les noirs. En 1962, c'est la tendance vu que la ségrégation est de mise. Il se présente à une annonce pour être chauffeur afin d'accompagner un docteur dans sa tournée. Quelle surprise quand il découvre que son futur big boss, un certain Don Shiley est noir-américain et musicien classique. Tony doit l'accompagner pour une tournée de huit semaines dans les états du Sud de l'Amérique. Va-t-il s'assoir sur ces préjugés ou l'ouvrir en rital décomplexé ?
« Geen Book : sur les Routes du Sud » est tiré d'une histoire vraie. Au vu de l'affiche on s'attend à un road-movie dans le sud raciste de l'Amérique sous fond de jazz-blues. Erreur d'aiguillage ! Ce qui fait justement l'intérêt de ce film. Viggo Mortensen est monumental ! Il aurait mérité d'avoir l'Oscar du Meilleur acteur. C'est Mahershala Ali qui obtient l'Oscar du second rôle pour avoir incarné le pianiste virtuose Don Shiley. Le film a reçu une troisième récompense pour son scénario original à Hollywood.

« Green Book : sur les routes du Sud » est remarquable dans son interprétation et son récit à telle point qu'il aurait pu durer, une heure de plus, sans trouver la route ennuyeuse et assommante.
Phil Marso – 11 mars 2019 - www.walkmovie.info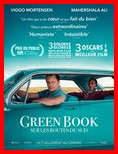 Chronicle of the movie « Green Book : sur les routes du Sud » in English
A Biopic drama by Peter Farelly with Viggo Mortensen, Mahershala Ali, Linda Cardellini, Sebastian Maniscalco, Dimiter D. Marinov, P. J. Byrne, Don Stark, David An. 2:10 - Released January 23, 2019.

Tony Lip, an Italian-American bouncer from the Bronx, knows how to handle difficult situations. He is a psychologist, even if on arrival, he uses fists. He has a lovely wife Dolores and two kids. He just lost his job for being a little too zealous about a little guy. He will have to find a new job to feed his family. Tony still has two major flaws: he likes hamburger junk food and does not support black people. In 1962, this is the trend as segregation is in order. He comes to an announcement to be a driver to accompany a doctor on his tour. What a surprise when he discovers that his future big boss, a certain Don Shiley is black-American and classical musician. Tony is to accompany him on an eight-week tour of the southern states of America. Will he sit on these prejudices or open him in uninhibited rital?

"Geen Book: On the Southern Roads" is drawn from a true story. In view of the poster we expect a road movie in the racist South of America under jazz-blues background. Referral error! Which is precisely the point of this film. Viggo Mortensen is monumental! He deserved to have the Oscar for Best Actor. Mahershala Ali is the Oscar winner for playing virtuoso pianist Don Shiley. The film received a third award for its original Hollywood screenplay.

"Green Book: on the roads of the South" is remarkable in its interpretation and story to such an extent that it could have lasted another hour, without finding the road boring and boring.