CINÉMA CHRONIQUE - CRITIQUE
Walkmovie.info vous dévoile la chronique du film : Le Grand Bain (2018) - Chronicle of the movie « Le Grand Bain » in English
En poursuivant votre navigation sur ce site, vous acceptez que des cookies soient utilisés afin d'améliorer votre expérience utilisateur et de vous offrir des contenus personnalisés : OK - Info Cookies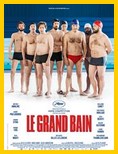 Sortie 24 octobre 2018
Comédie dramatique de Gilles Lelouche avec Mathieu Almaric, Guillaume Canet, Benoît Poelvoorde, Jean-Hugues Anglade, Virginie Efira, Leïla Bekhti, Marina Foïs, Philippe Katherine, Félix Moati, Alban Ivanov, Noée Abita, Balasingham Tamilchelvan, Pierre Pirol, Jonathan Zaccaï, Mélanie Doutey, Erika Sainte, Claire Nadeau, Virgile Bramly. 1h58 – Sortie le 24 octobre 2018.
Bertrand la quarantaine est en dépression social, même s'il est entouré de sa femme Claire et de ses deux ados. Il est complètement à la ramasse et passe son temps sur le canapé à jouer à des jeux vidéo. Le seul moment où il se sent plus léger, c'est à la piscine municipale quand il accompagne sa fille. Jusqu'au jour, une petite annonce l'intrigue : Cherche nageur adulte pour incorporer une équipe de natation synchronisée masculine. C'est Delphine, ancienne gloire des bassins qui s'occupe de l'entraînement. Bertrand va vite s'apercevoir que ses coéquipiers Laurent, Marcus, Simon, Thierry sont des bras cassés. Ces entraînements dans le grand bassin vont-ils redonner un sens à leur vie ?
« Le Grand Bain » est dans la même veine que le fameux « Full Monty » où des chômeurs anglais montaient un groupe de Chippendales. Gilles Lelouche a réuni une excellente équipe de comédiens affutés au drame social, teinté d'humour. Benoît Poelvoorde en patron bordélique apporte sa dose de folie. Jean-Hugues Anglade en artiste guitariste qui coure après les cachetons de bal musette version 80' dans l'espoir d'être un artiste reconnu, mais intègre. Guillaume Canet en winner qui a tout réussi, sauf la fibre familiale. Mathieu Almaric endosse le costume de la déprime à souhait. La surprise vient du chanteur Philippe Katherine qui apporte sa sensibilité de souffre-douleur. Virginie Efira cantonnée souvent dans des rôles de femmes égarées, divorcées ne déroge pas à la règle, mais avec justesse. Le rôle Balasingham Tamilchelvan incarnant un Sri lankais ne parlant pas un mot de français est la seule faute de goût du film. Ce n'est pas parce qu'on vient de loin que l'on n'arrive pas à s'intégrer, même si son français est approximatif. Le réalisateur Gilles Lelouche est sans doute favorable à la légalisation du cannabis. Les pétards n'arrêtent pas de circuler dans le film. Á moins que ça soit pour marteler la génération 80/90 ! On prend plaisir à suivre les aventures dedans et en dehors du grand bassin. Les dialogues font mouche.
« Le Grand Bain » frôle la perfection comme la natation synchronisée, il est très compétitif pour glaner des podiums aux Césars et ailleurs. Plongez-y sans hésiter !
Phil Marso – 29 novembre 2018 - www.walkmovie.info
Chronicle of the movie « Le Grand Bain » in English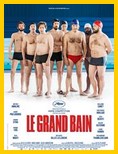 Gilles Lelouche's comedy with Mathieu Almaric, Guillaume Canet, Benoît Poelvoorde, Jean-Hugues Anglade, Virginie Efira, Leila Bekhti, Marina Fois, Philippe Katherine, Felix Moati, Alban Ivanov, Noah Abita, Balasingham Tamilchelvan, Pierre Pirol, Jonathan Zaccai, Mélanie Doutey, Erika Sainte, Claire Nadeau, Virgil Bramly. 1h58 - Released October 24, 2018.

Bertrand quarantine is in social depression, even if he is surrounded by his wife Claire and two teenagers. He is completely picking it up and spends his time on the couch playing video games. The only time he feels lighter is at the municipal pool when he accompanies his daughter. Until the day, a small ad the plot: Seeking adult swimmer to incorporate a male synchronized swimming team. It is Delphine, former glory of the basins who deals with the training. Bertrand will quickly realize that his teammates Laurent, Marcus, Simon, Thierry are broken arms. Will these trainings in the big basin give a meaning to their life?

"The Big Bath" is in the same vein as the famous "Full Monty" where unemployed English mounted a group of Chippendales. Gilles Lelouche has put together an excellent team of comedians who are attentive to social drama, tinged with humor. Benoît Poelvoorde in messy boss brings his dose of madness. Jean-Hugues Anglade as a guitarist who runs after the stamps of the 80's version of the musette ball in the hope of being a recognized but honest artist. Guillaume Canet winner who has all succeeded, except the family fiber. Mathieu Almaric puts on the costume of depression at will. The surprise comes from the singer Philippe Katherine who brings his sensitivity of scapegoat. Virginie Efira often confined in roles of lost women, divorced does not derogate from the rule, but with accuracy. The role Balasingham Tamilchelvan embodying a Sri Lankan not speaking a word of French is the only fault of taste of the film. It is not because we come from far that we can not integrate, even if its French is approximate. The director Gilles Lelouche is undoubtedly in favor of the legalization of cannabis. The firecrackers keep going around the movie. Unless it is to hammer the 80/90 generation! We take pleasure in following the adventures inside and outside the big pool. The dialogues fly.

"The Big Bath" is close to perfection like synchronized swimming, it is very competitive to glean podiums at Caesars and elsewhere. Dive in without hesitation!
Phil Marso – November 29, 2018 - www.walkmovie.info